Co-design Wananga
During this initial phase we came together as a full project team at a joint Māori and Pasifika Wananga to learn about co-design, explore our team culture, establish team values and look at how the Community Coordinators would facilitate the co-design process with their communities.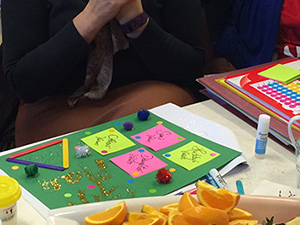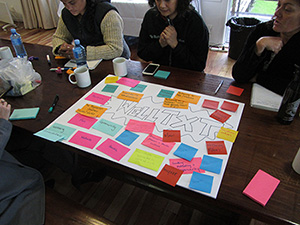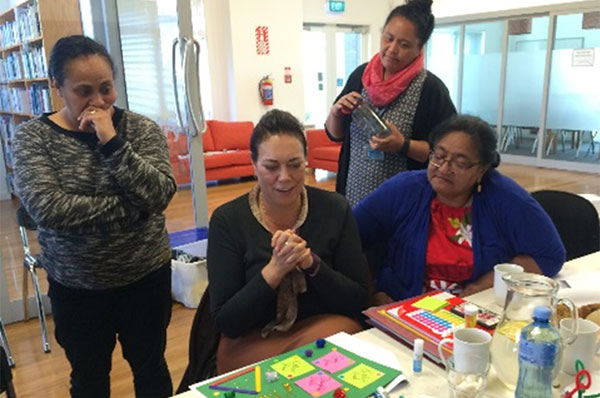 Focus Group Round 1
During August and September 2016 Community Coordinators ran initial focus groups with their respective communities to explore which aspects of health were important for their wellbeing and what their hopes and dreams were for their whānau/family, hapū, iwi and communities.
8 focus groups were run with representatives from the following communities:
Te Awaroa Community
Waiwhetu Community
The Fono
SWPICS
To enable communities to share their thoughts and dreams various facilitation tools were used to help answer the following questions: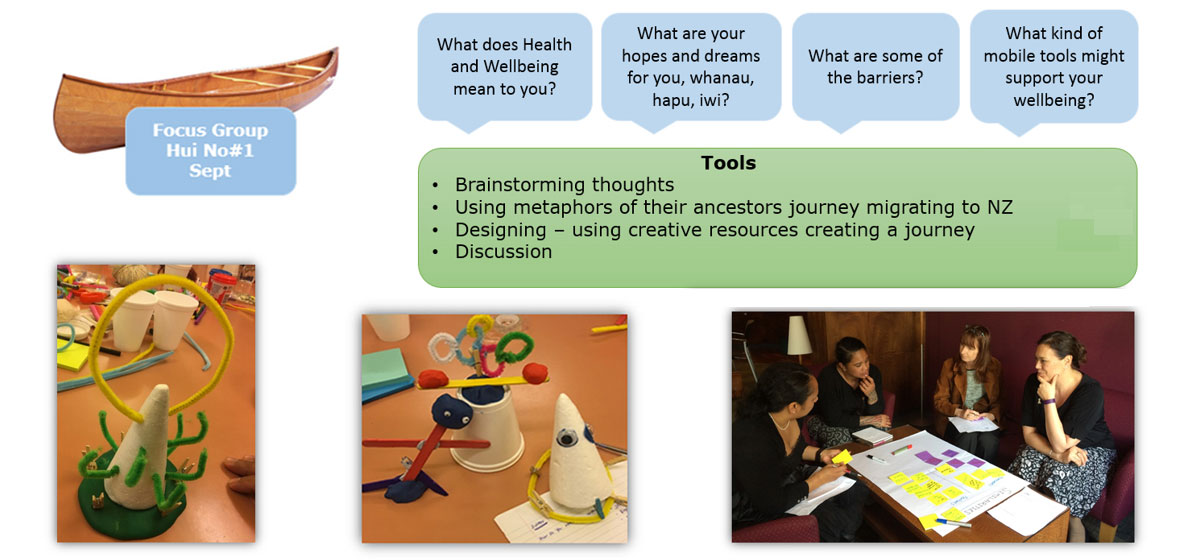 Hui/Fono 1
Focus: Feedback
The project team came back together to present their findings from the focus groups they had run and to design the next steps in the co-design process.
Some common themes amongst the groups included:
family/whānau
the need for a holistic approach
culture is a large part of this
cost of housing/food/technology
there was a  of co-design from all groups
The team agreed that the next round of focus groups would be about refining the ideas around health and wellbeing and looking at technology as a way of supporting communities to achieve their health and wellbeing goals and aspirations.
Focus Group Round 2
The second round of focus groups took place during October and November 2016 and involved:
Summarising the journey so far
Doing a "bus stop" activity – stations set up which allowed them to trial other mHealth tools that are currently available (see further details in Hui/Fono 2)
Pros, cons and ideas were discussed after testing these tools
Everyone had an opportunity to design their own tool
These focus groups were with representatives from the intial focus groups in round one.
Hui/Fono 2
Focus: Co-design methods
The project team came back together to present findings from their focus groups.
The 'Bus Stop' activity which showcased various mHealth technologies had been used by all the focus groups and it gave ideas to everyone on what could be possible.  The following mHealth tools were used by the groups:
SPARX
Fitbit
NHS Health Checks
FoodSwitch
TextMATCH
Know your Numbers
River rush
Seven – 7 min workout
Hikoi Tahi Tours
Aki
The younger participants did not want to spend so much time on looking at current technologies and wanted to go directly to designing their own solution. This highlights the need to determine the demographics of the final users before going ahead with the solution due to intergenerational differences with knowledge and experience of technology.  Some of the ideas that were produced during The Fono focus group are shown below: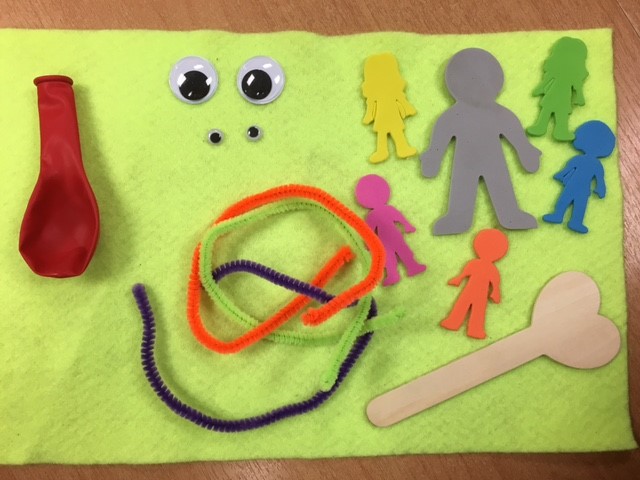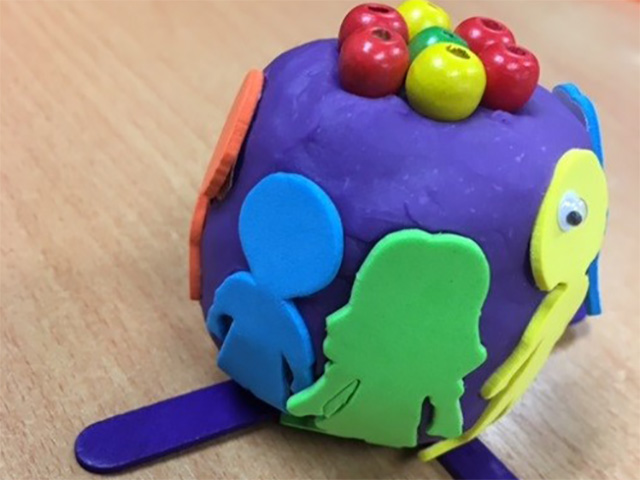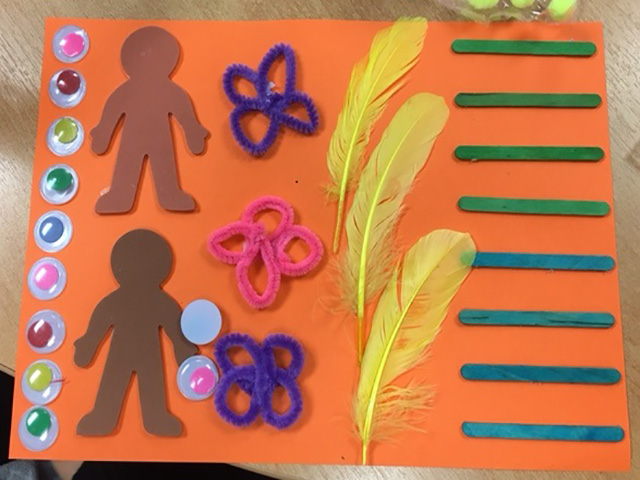 Common ideas that came through in these focus groups were:
Colourful
Inter-generational
Information about local resources
Easy to use
Design not too busy e.g. + for hospital
Alternatives to having technology available e.g. ability for someone else to print out information
This hui/fono was a chance to explore additional co-design methods like POV's (Point of Views) and HMW's (How Might We's) that could be used in the communities to confirm that the team were fulfilling their obligations to the co-design process.  More details on these methods can be found in the co-design section.
Hui/Fono 3
Focus: Prototyping/designing of tool
This Hui/Fono was held in December 2016 with the aim to explore key modules, topics and features based on community feedback and enable us to priorities the most important ideas to start pototyping the mHealth tool.
We:
Defined the difference between modules, topics and features
Used the focus group transcripts to come up with a list of these modules, topics and features to ensure we didn't miss anything out.
Worked with our Community Partners to summarise these ideas in order of importance based on what they had heard from their communities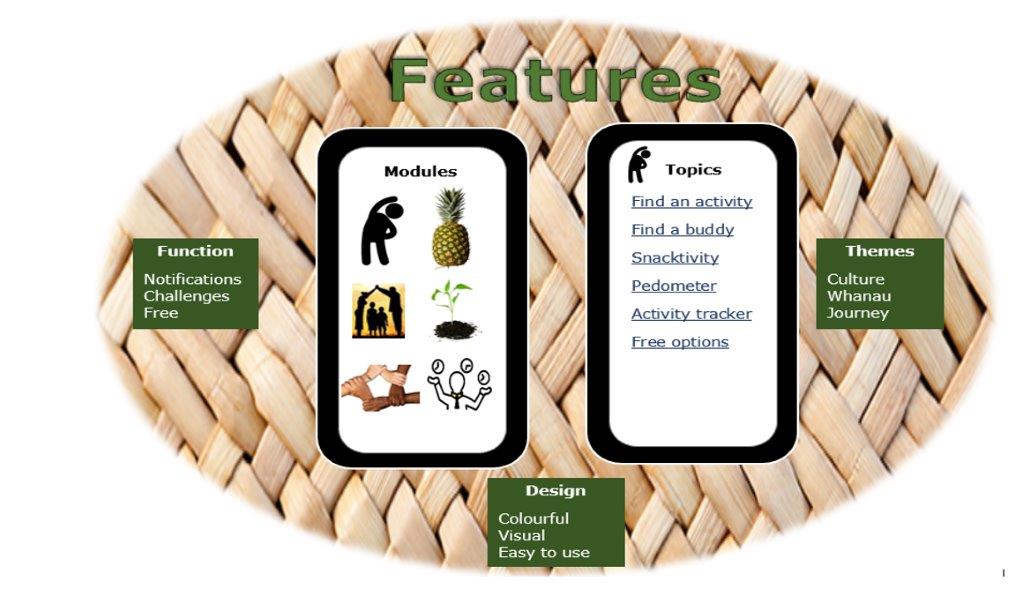 Below is a summary of the Māori and Pasifika key modules in order of importance (5 most important, 1 less important) for this project.
Māori Key Modules
Connecting to: Whanaungatanga (whānau relationships, connection); Matauranga (knowledge); Whakapapa (belonging); Rangatiratanga (empowering others, creating leaders); Whakamono
WhakataukI, motivation and support, holistic wellbeing - tinana, wairuatanga, hinengaro, whānau (whare tapa whā)
Mental wellbeing/stress, physical activity, maara kai/garden
Kai/food, smoking/alcohol, connecting hononga, education/health literacy
Weight
After further exploration the Māori team agreed that whilst connecting the Whanaugatanga, Matauranga, Whakapapa, Rangatiratanga and Whakamono were important, these elements should be woven throughout the mHealth tool and not be a seperate modules. It was agreed that the focus should be on the following topics:
Kai
Maara kai/garden
Whakapakari Tinana/Physical Activity
Whānau
Pasifika Key Modules
Food, vegetable garden/gardening
Connecting (app to facebook), family, motivation and support, physical activity
Education/health literacy
Stress, time management, community obligations
Goal setting
During this hui/fono it became very clear that based on the community feedback we would need to develop both an app and a web component to go alongside it.  This is required so that those who do not have access to a smart phone could still be part of the trial and there would be no limitations in the future.
Rapid Prototyping
We worked with Koda Web to develop our initial wireframes based on the findings of the hui/fonos and focus groups that were part of phase 1.  Once these were completed we moved into the rapid prototyping phase as described in the process diagram below: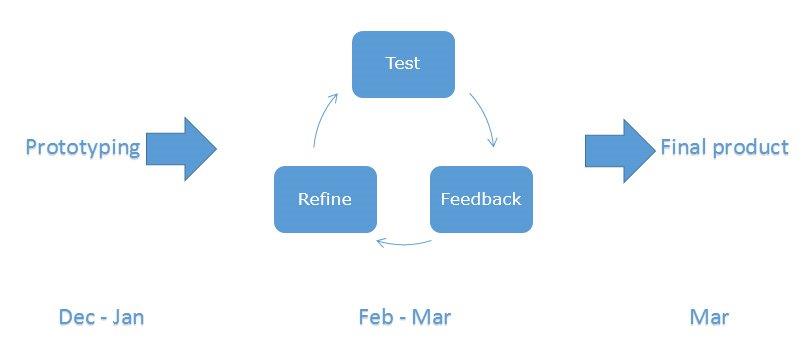 The wireframes were taken out to the communities for feedback.  The feedback enabled us to refine the wireframes which in turn gained more feedback once taken out to the communities again.  This process occured three times until it came to a natural conclusion where we were confident that we were at a stage to work on final designs and develop the app and web component with a view to creating a working prototype.
Hui/Fono 4
Focus: Prototyping/designing of tool
In March 2017 another hui/fono was held with the project team to look at the wireframe designs to date and agree further content and features of this tool.
From March to July 2017 prototyping continues with more refinements being made during this time.  Communication of these refinements continue to occur with the communities as decisions are made to ensure that the content and functions are implemented to meet the needs of the users.
Throughout this project we have been using a co-design process to give the users of the final solution the ability to have input into it.  This input will shape the final solution and will help to ensure that we are creating something that the communities want.  Which we hope will help to increase engagement of the tool.
The pictures below show the progression from the initial wireframes to the final app design.
Māori version
The above is an example of how the wireframes have evolved as we work from one version to the next and gain feedback from our communities until we had the final product (last two screens) with two options to choose from.
Throughout phase 1 our communities have told us how the Whare Tapa Whā model is an important model and that health is not just about Tinana (physical) benefits but also about Hinengaro (mental), Wairua (spiritual) and Whānau. The first wireframe was lacking this concept so over time the Whare Tapa Whā model became the welcome page of the app and the central structure that everything sits under within the app.
The Pasifika model (see below) depicited a Vaka/Waka to show the journey of Pasifika migrating to New Zealand and also the journey of our project. The Māori communities also liked this concept and wanted an option where the user could chose which welcome page resonated more with them.
Pasifika version
Similar to the Māori community story above the Fonofale was an important model with the feedback from our Pasifika Communities. Health to our Pasifika community was also not just about the physical side but spiritual, mental and family. Pasifika wanted to see this model designed similar to the project logo with a Vaka as mentioned above to represent the journey of Pasifika people and this project.
Behaviour Change Techniques
Although every behavioural challenge is different there are some tried and tested techniques that can improve the chances of designing and delivering a successful behavioural intervention. These techniques were mapped to the findings from the co-design phase and were used to develop the features and functionalities of the tool. This approach ensures that the tool is not only culturally tailored but also evidence-based. The project team has described this approach in a scientific paper which we will be available once published.